There are ways celebrities for charity. As
Justin Bieber
, who brought his snake at the MTV Video Music Awards 2011 to be auctioned.
According to an online auction website, Charity Buzz, snakes Bieber estimated price of up to U.S. $ 2000. Not unexpectedly, the price of yellow snake that was estimated with a high enough price. According to the site, two times higher than the estimated price.
Johnson was named the snake Offer will expire on November 29, 2011. All funds collected will be donated to an organization called the Pencils of Promise to build a school.
Anyone who gets the snake, Charity Buzz've made sure that the snake was well maintained. People who receive the snake must sign a contract that ensures that it will keep and care for the little snake.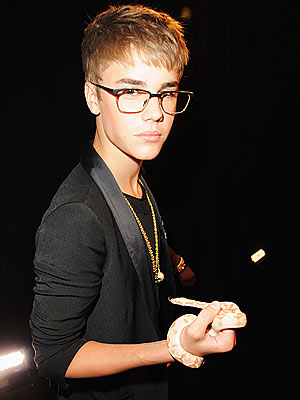 Not only a snake,
Selena Gomez's
boyfriend also will donate the profits from his Christmas album. Singer of 'Never Say Never' it will donate to the foundation Make-A-Wish Foundation, Boys & Girls Clubs of America and City of Hope.
This entry was posted on at 11:39 PM and is filed under About Justin Bieber. You can follow any responses to this entry through the RSS 2.0. You can leave a response.